Eiger Ski Club was setup in 1977 with the aim to create and maintain a lodge that provided the best possible facilities for our members and guests
Eiger Lodge
Eiger ski club was born out of the dreams of avid climbers from Melbourne in the 70s. After getting a group together they decided to build and start the ski club.
The new members decided to name the lodge Eiger Ski Club, after the famous mountain in Switerland. The logo was designed by Gingy Johnston who was one of the members. They found influence for the spider symbol from the Eiger's mountains well known ice field, which is three quarters the way up and is called The White Spider as it resembles a spiders web when covered in snow.
In 1979 the club was granted a crown lease at Mount Hotham and started construction of the Eiger Ski Lodge. It then opened in 1980 and has continuously provided high quality accommodation for its members and guests.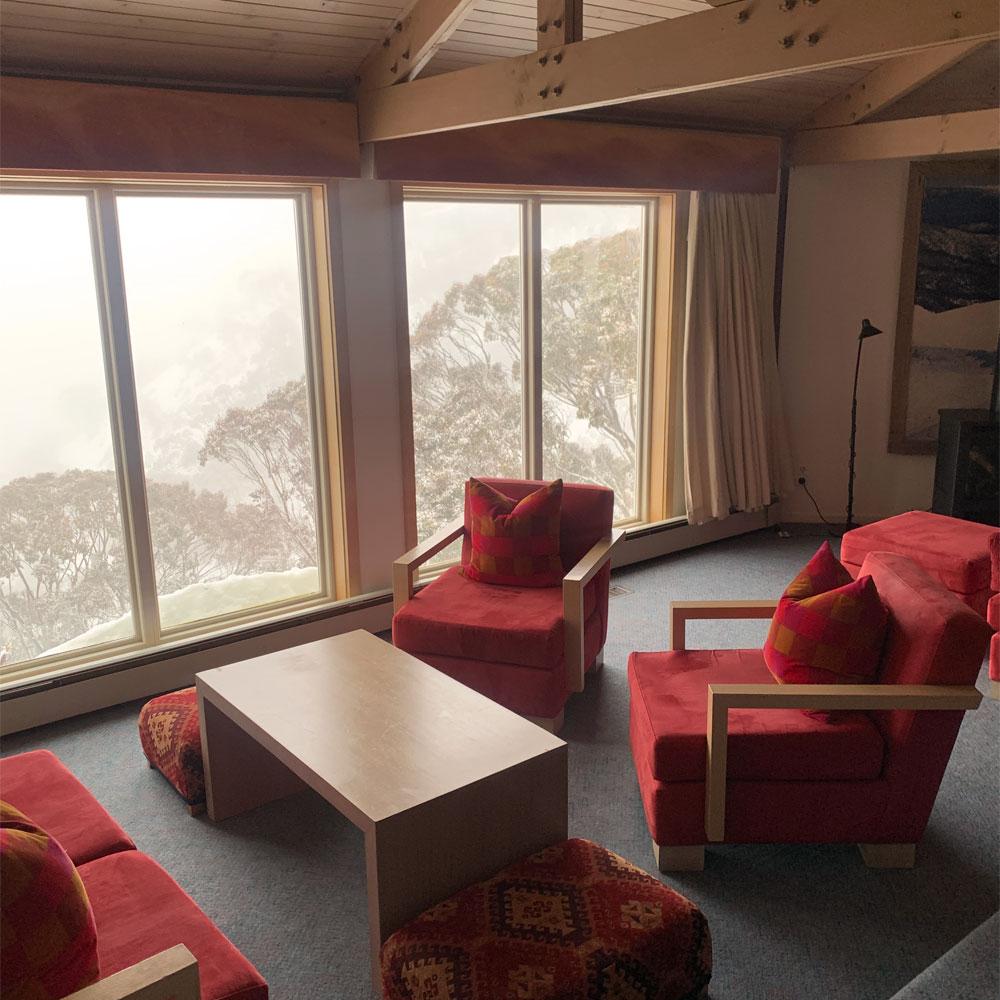 About The Club
Eiger Ski Club is one of Hotham's leading member owned and operated lodges. Once you arrive at Eiger Lodge you will be welcomed by our resident lodge managers, fellow guests and members who all share a passion for snow sports, great food, travel and wine. There are multiple living areas with open fireplace and a dining area. Plus a sauna to rest the weary bodies of skiers and snowboarders alike.
Eiger Lodge is run on a semi-commercial basis, providing benefits to its members, while contributing to the availability of lower cost, high quality, family-friendly accommodation on the mountain.
The club is a co-operative of seventy five members each with an equal share in the co-op. The co-op operates in accordance with the Victorian Co-operatives Act.
Club Officers
Club President – Adrian Amiconi
Vice President – Jenny Anson
Treasurer – Kay Maquire
Secretary – Joanne Anson
Committee Member/Supplies – Sarah Amiconi
Maintenance Officer – Fred Pezzimenti
History
Over its 30 year history, Eiger has developed and grown according to the needs of its members and of the mountain. The original membership was relatively young singles and couples, whose experience of skiing in a range of Australian and overseas resorts informed the development of Eiger and its facilities. The Lodge itself was constructed with exceptional attention to quality accommodation provision, with 4 to 6-bed rooms with private en-suites, providing an amenity rarely available in lodges of its vintage. Thanks to an on-going program of maintenance, upgrading and renewal, the Lodge retains a modern appearance and feel which continues to appeal to members and guests alike.
In its first decade, Eiger built upon the foundations set by its original members, all of whom provided significant personal and financial input to the establishment of the facilities. Eiger has always welcomed new members and their families and guests. During its first decade, Eiger had substantial membership transfers (31 in total) as original members had families, changed circumstances, etc. Eiger was used primarily by the original and new members along with their families and guests.
In its second decade, Eiger's focus became more family oriented as members began to have their own children. Over this period, membership was more stable, with 18 membership transfers. Eiger continued to place a high priority on shared involvement in management and maintenance of the Lodge.
Recent Times
In the most recent decade, Eiger has taken on a semi-commercial focus, supporting its financial viability and retaining its vibrancy, aided by the on-going turnover of memberships (27 since 2000, and some 7 transfers between family members), which has reduced the average age of members substantially. This will support Eiger in retaining its modern approach and facilitating the ongoing lodge management. Eiger's 'new member policy' ensures that we have potential members on the waiting list who meet our key criteria of subscribing to the philosophy of the Club and participation in a lodge community.
Philosophy
Eiger's philosophy is to provide the best possible facilities for the benefit of members and the mountain generally, being:
Strong fiscal management which enables the lodge to provide a high level of physical amenity and services (such as resident lodge managers in winter).
Continuous reinvestment in the lodge. We have:
Refurbished the kitchen, replaced furnishing and fittings
Refurbished bathrooms and bedrooms, replaced carpets and flooring
Re-clad the lodge in aluminium, substantially modernising its appearance, dramatically reducing external maintenance and improving internal climate efficiency
Upgraded the heating system and installed double glazed windows
Well defined policy and procedures which cover topics ranging from member qualification to ensure we have members who are aligned with our practices and values, to detailed lodge manager and executive and committee member position descriptions.