Eiger Lodge offers ensuite rooms, multiple living areas with open fireplace, a commercially appointed kitchen & live-in managers
Contemporary Accommodation
Offering a choice of 4, 5 or 6 person share room – all with ensuites. Each room contains one double bed plus one or two bunks.
Eiger Lodge supplies doonas and pillows however you are required to supply your own linen (towel and sheets) or you can hire for a small fee. Rooms are located away from the living areas.
Extensive Range of Facilities
Guests are encouraged to make use of:
Dining and lounge areas
Commercial kitchen with basic supplies
Open fireplace
Relaxing sauna
Double and Bunk Beds
Ski workroom
Drying room
Laundry facilities
All seasons BBQ area
Due to Covid19 the commercial kitchen will offer NO basic kitchen supplies and condiments. There is also a ski workroom, drying room, laundry and all season BBQ area.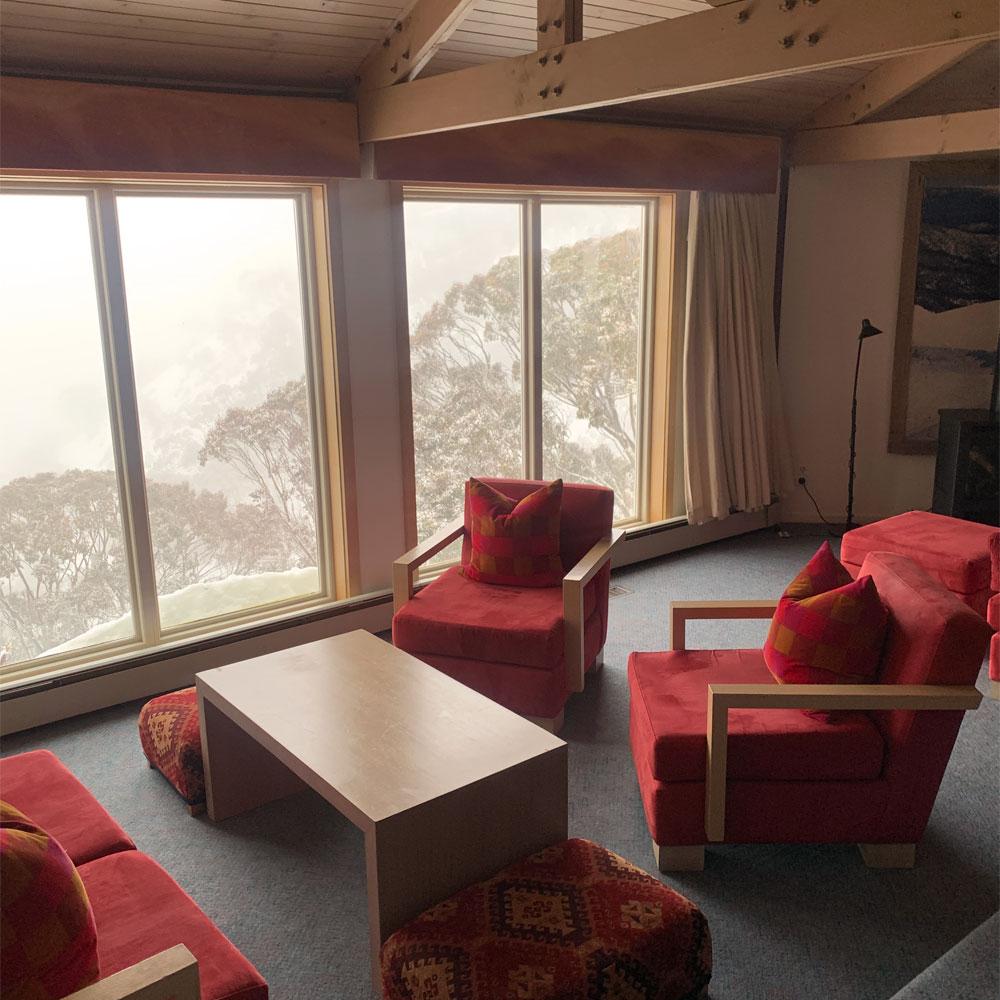 Checking In
Check-in time is 4.00 pm. Check-out time is 11.00 am.
PLEASE DO NOT ARRIVE EARLY as it will result in your inconvenience.
If you want to arrive at Mt. Hotham early, we suggest you leave your gear in the car, park in the day carpark and transfer your gear to the lodge after your day's skiing.
On arrival check the notice board in the entry to find your bedroom allocation. Make yourself known to the lodge manager and stow your gear.
Skis and poles should be left in the racks in the entry and wet gear in the drying room.
Food should be placed in the cupboards, fridge and freezer allocated to your room and/or in the cool room adjoining the kitchen. An excellent cold store for drinks is available on the downstairs balcony, next to the BBQ. The kitchen is fully equipped including cooktops, microwave, ovens, all utensils and ample crockery, cutlery and glassware.
On Departure
Remove all left over foodstuffs from fridges, cupboards and cool room. Do not leave unwanted food behind. Check the drying room for your belongings.
Please ensure your bedroom and bathroom are thoroughly cleaned and vacuumed before you leave. If there is more than one group in your room, each group is responsible for cleaning when they leave – don't leave it to the others.
Other Notes
You are responsible for cleaning your bedroom and bathroom and for cleaning up the kitchen/dining areas after your meals.
The lodge managers may ask for assistance in snow clearing or other tasks. We thank you, in advance, for your co-operation.
There is a washing machine and dryer in the laundry off the kitchen area. The lodge also has a sauna located at the bottom of the bedroom stairs.
You will find a compendium detailing all the lodge and mountain services in your room to answer the most frequently asked questions, if you need other information our lodge managers are available for assistance.
We ask you to respect all the facilities provided.
Safety
Eiger Ski Lodge is serious about your safety. Due to the danger of sliding down the steep slopes behind the lodge, Eiger wants all guests to be aware that it is forbidden to ski, board or play in that area. If you disregard this policy, you may be asked to leave the lodge and forfeit your accommodation and payment of same. THIS IS FOR YOUR OWN SAFETY.